What Is AppSumo? How It Works?
AppSumo is a marketplace that provides lifetime deals for various software.
This is how it works:
AppSumo releases 3 new software deals each week. Each deal is a lifetime deal where each computer software is available for a fraction of the usual yearly cost. Usually 50 to 95 percent off of regular pricing.
Each AppSumo bargain includes a limited number available and is currently on sale for typically a two week period.
They utilize and test every single tool before purchasing them.
AppSumo was established by Noah Kagan in 2011 and has played well for several companies. NinjaOutreach signed up 2,000 new customers and PixelMe made $176,826 through AppSumo deals.
Which tools do they provide deals for?
Here are some previous AppSumo bargains;
ClickMinded SEO training course: $149 (average fee is $479)
Serpstat SEO platform: $39 for life signup (generally at least $300 per year)
Webinar Ninja: $49 for life signup (normally begins at $45/mth)
Landingi landing page designer: $49 for life signup (regular pricing is $29/mth)
Deposit Photos: $49 to get 100 premium graphics (usually $1 an image)
How Does This Operate?
In order to facilitate these deals, AppSumo has to associate with digital product sellers and service suppliers that are eager to provide their products and services at highly discounted prices. In order to make it worth their while, AppSumo distributes information about every deal to its huge online audience in order to facilitate a great deal of sales very quickly.

Essentially, AppSumo's distribution power makes it possible for all these businesses to create a large number of sales very fast, which makes those tremendous reductions worth it for the provider. Then AppSumo also takes a portion of those sales to support its operations as well.
For buyers, you can subscribe to receive new deals in your inbox or just browse available deals on the site. When you see a deal that appeals to you, just follow the prompts to complete your purchase. Sellers can set a certain number of bargains they want to make accessible, so once it is sold out, you can't get it anymore.
What Are the Advantages?
For businesses which are looking to purchase digital products or services, the advantages of AppSumo are pretty obvious. You are able to get discounts of around 95 percent from an assortment of online vendors and service providers. Therefore, if you're looking for, say, a new accounting software and can not afford to pay for a major upgrade, you are able to keep your eye on the site in order to make the most of a deal which fits with this particular need.

For those partners which actually provide products and services on the website, the advantages are a bit more complex. Not every digital company can always afford to provide such deep discounts on products and services, or would feel compelled to do so. But if your business needs a bit of a quick influx of cash or wants to reach more customers quickly so as to demonstrate the benefits of a service or product, then offering discounts with AppSumo can potentially be a rewarding promotion. The business can help you reach more potential buyers than you would on your own, because it's over 700,000 active subscribers. Along with the reduction gives them an incentive to purchase right away, since you can also set a specific amount of deals you are eager to offer before it sells out at that price.
Cons
Their help service is the worst and they frequently treat you as an idiot. Even with photographs and indepth information about problems, they still are unable to comprehend the problem.
We only wanted to use ONE popup and couldnt. Horrible customer service with limited understanding in their product'
That can be frustrating if wanting to trial the product prior to purchasing it.
My sole complaint with their package of tools would be their sharing programs, which is nitpicky. I have built-in share buttons onto my CMS that look great on mobile and on a desktop. The Sumo instrument proved to be a real hassle when I was using it (2015-2017). It caused among my followers to both email and let me understand it was a hassle with this lagging (however persistent in its own subsequent ) behaviour.
Sumo is probabbly not so simple to use for new customers or people who have never employed similar services or edited graphics.
Couldn't find the choice to disable the kinds on particular pages but maybe it's there. Other than that this tool is absolute gold.
AppSumo alternatives
But there are choices for it.
Places that operate deals not currently on AppSumo but may turn out to be the one you were looking for.
I'll list a few that I visit regularly and you'll be able to add that to your shopping course for tools.
Your takeaway
The purpose of this post was supposed to map out a set of sites you check out frequently to find the best prices available on your tools and solutions.
I personally go to each of these once or twice each week.
AppSumo — quite well-curated deals on the best digital products and reigning #1
StackSocial — massive marketplace with excellent bundles offering great value
PitchGround — copied the AppSumo version
Rebeliance — entrepreneur-focused life deals
SaasMantra — new space with webinars exhibited around the product
LTDF deals — A closed Facebook group that posts regular updates on the latest tool deals conducting
AppSumo Review: to make the best of AppSumo
AppSumo is a treasure trove of awesome deals, which will find any right-minded entrepreneurs reaching for their credit cards. If you stick to these tips, you shouldn't ever have buyers repent.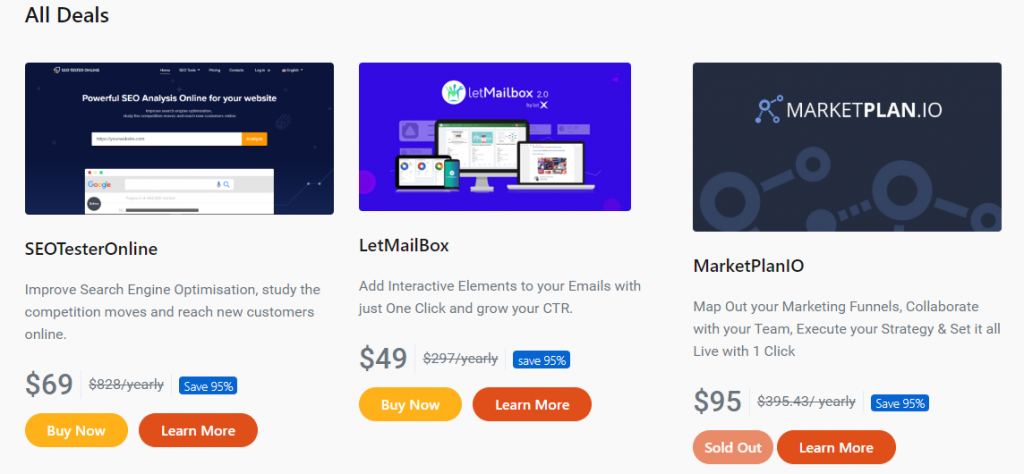 Everyone loves a bargain! So much that we are able to buy things we do not need. Not everything offered on AppSumo is going to be useful for your business.
It's really important to consider each 'deal' individually and how it pertains to a business prior to buying. Do not get carried away by the thought of a fantastic deal.